Flexible Shaft, Burrs, Polishing & Other Finishes
---
---
Description
Come and learn about drills, burrs, buffs and the various use of the pendant drill including:
Control of the drill and maintenance
Speed of the drill for different tasks
Cutters /grinders/ craxtex and rubber wheels /Felts etc.
Texturing burrs/satin finishing heads /scotch bright heads
Drills/tungsten carbine/High speed steel/diamond /pearl
Sharpening drills and burrs
Burr life and Wax
Burnishing wheel to close pin holes in casting and soldering
Finishings (polishing):
Large polishing motor
Satinising
Abrasive wheels
Polishing Buffs
Correct polishing and finishing's with Tripoli/Rouge and other compounds.
Please bring a piece or pieces to be finished and questions on the use of drills and polishers.
The cost of the four hour workshop is $88.00 inclusive of GST.
+ More
Class Schedule
Workshops 22 July, 1.30pm to 5.15pm and 23 September, 1.30pm to 5.15pm.
What you will learn
Come and learn about all the drills, burrs, buffs and the various uses of the pendant drill.
Learn about the large polishing motor, satinising, abrasive wheels and polishing buffs.
What you will get
demonstrations of hand polishing, satinising, pumice powder finish, different burrs and wheels and use of two speed handsets
---
What to bring
Bring a piece or pieces of jewellery to be finished or any you are having trouble cleaning up.
What to wear
Casual dress
Appropriate for
Jewellery Makers
---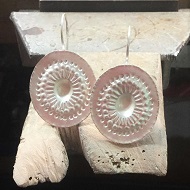 We are a contemporary jewellery studio and gallery run by local jeweller Philip Noakes, who has over forty years experience in making and teaching in the industry. Philip has exhibited extensively around Australia, and makes his own work and private commisions, as well as teaching from the studio.
Contemporary Metal offers jewellers and students access to a fully equipped studio including: rolling mill, soldering and melting torches, pendant drills, vacuum casting, vulcaniser and wax injector, hydraulic press, lathe, tumbler, polisher, ultrasonic, large dapping sets and lapidary equipment.
We have benches available for hire on a casual, weekly or ongoing basis.
+ More