Like weely giveaways? Like exclusive classes? Like special offers?
Then your'll love our Newsletter!
Brisbane 4 Day Masterbrew Bootcamp Brewing Course
---
---
Description
N.B. (This course is recommended for those with a good grasp of the fundamentals of brewing at home, and those wanting to enter or just entered the microbrewing industry.
If you have not brewed before it is highly recommended that you also complete the one day Essentials course first)
Learn about the 8 secrets to making great, consistent beer
This is an intense bootcamp style course and will turn you from an ordinary brewer to an exceptional one, even if you have been brewing for some time. It is not for those wanting casual information on starting to brew.
Dispel the 13 myths that abound in homebrewing and learn how to put all the pieces together to get the right brewing picture.
By doing this course you will gain the 4 steps to becoming competent in brewing great beer by;
becoming confident in brewing at home and taking the next step to becoming a microbrewer or becoming a better microbrewer
having one of those rare Ah Ha moments where the penny drops and understanding the jigsaw of brewing
appreciating the real effect of what and how to store and use raw materials properly
understanding why a well designed brewery is soooo.. important to consistent quality
The 4 day courses covers 14 major areas in brewing;
Malts, Hops, yeast, and water. How they can affect flavour
How to choose your yeast, and the flavours they impart
The design of different styles of beer (actual calculation of a recipe from scratch)
The right conditions of mashing. Do we need to know why?
Ale brewing versus lager brewing
Practical brewing using a modern microbrewing plant (500L).
Why filter beer and we show you how (Demonstration)
Fermentation principles and various problems that can arise (can you do something about them?)
Filtration and "stabilisation" of beer
Carbonation and Kegging (Demonstration)
Analyses of beer- why bother?
Learn how to taste beer and find faults and how to rectify them
Learn why most homebrewers don't have what it takes to be successful in Craft brewing but how you can be.
Silver Lining VIP group enrollment (for 2 or more students only)
each student receives the following bonuses;

Entitlement to 5% referral discount for setting up group (all the group receives this)
Have a brewer free; advice 1 hour after the course on homebrewing ($170)

Could you take a moment to reflect and think about why you want to do this course? In your brewing what are your main problems or concerns? What are you trying to accomplish? What is your level of knowledge or experience you have about brewing?

Once you have written them down, then, if you wish, send the answers to me and I will endeavour to make sure you get a solid reply to them. In any case bring them with you to the course and we will discuss them there.

Email me at vince@costanzobrewing.com

P.S. GIFT Vouchers: If purchasing a Gift Voucher please redeem voucher before attendance so we will be notified of your participation or you may miss out on a seat!
+ More
What you will learn
Discover what the the jigsaw of brewing great beer is
Learn the 8 secrets to making beer from malt grain
Dispel the 13 myths of brewing beer
What you will get
Lunch/ tea/Coffee
Certificate of Completion
Free entry to Brewery tour
Free entry to a local craft brewery for watching a full Brew Day
Do you have a WeTeachMe coupon? IMPORTANT: When booking, please only select "Normal" ticket to redeem your exclusive discount. Code is INVALID on all other ticket types.
Full Course notes also included.
---
What to bring
Notepad and pen
covered leather footwear for brewday
one bottle of homebrew for free assessment (optional)
Appropriate for
18 years and older
---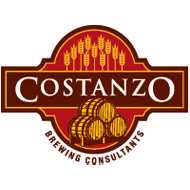 Costanzo Brewing Consultants' (CBC) mission is to assist micro brewers and home brewers to improve their skills and knowledge, and, by using good brewing practices, brew quality beers on a consistent basis. Its main mission is to impart accurate knowledge, and assist transition to all grain brewing for the novice microbrewer. In essence, the growth of the micro-brewing industry depends on the passion of home brewers some of whom ultimately move into the commercial scene. It is the mission, therefore, of CBC to assist with this transition which ultimately results in a vibrant and growing industry.
So in order to produce better beer you will need to consider better brewing techniques. We provide knowledge by providing home brewing courses, sourcing of appropriate equipment,analytical expertise, training of brewers and troubleshooting services.
To assist producing great beer Costanzo Brewing Consultants has sourced cost effective, high quality brewery and micro brewery equipment including brewhouse, cellar tanks and fermenters, laboratory and ancillary equipment. We also help develop beer recipes and set up brewing laborotories and even liase with contract brewers.
So catch the current wave of growth in the craft brewing industry and learn how you can be part of it.
Live the dream!
+ More
---
Cancellation & Refund Policy
No refunds or part thereof are available for non-attendance or cancellation of any of the classes.
However, in the event that a student has legitimate reason to discontinue the course (medical, family emergency etc.) the student needs to provide appropriate certification, and agreement reached between CBC and the student on an appropriate refund. Full refunds are not available and a maximum of 50% refund may be applicable.
+ More
Terms & Conditions
No refunds or part thereof are available for non-attendance of any of the classes.
However, in the event that a student has legitimate reason to discontinue the course (medical, family emergency etc.) the student needs to provide appropriate certification, and agreement reached between CBC and the student on an appropriate refund. Full refunds are not available.
There is no assessment for short courses and no prior knowledge requirement to enrol. It is, however, recommended that you have had some prior exposure to home brewing of some sort.
Disclaimer
Every reasonable effort will be made to make the course sites safe, emergency procedures provided and safety procedures explained at commencement of the course. No responsibility for accidents or injury will be taken by CBC or the venue operators.
While attempts have been made to verify information provided in the courses, neither the author nor the publisher assumes any responsibility for errors, omissions or contrary interpretation of the subject matter therein.
The reader of the materials assumes responsibility for the use of these materials and information. Adherence to all laws and regulations, federal, state and local, governing professional licensing, business practices, advertising and all other aspects of doing business in Australia , or any other jurisdiction, is the sole responsibility of the purchaser or reader of this course material. The author or publisher assumes no responsibility or liability whatsoever on behalf of any purchaser or reader of these materials. We do not guarantee any results you may or may not get as a result of following our recommendations. It is your responsibility to test every strategy for yourself.
The enrolment in any course signifies that you have read, understood, and accepted the terms and conditions contained herewith.
+ More
---