Beauty & Styling Program by DASH
---
Next Available: Sat, 02 Jun 1:30PM
---
Description
Join us for a 2 day Beauty & Styling program which is for anyone wanting to hone their skills on Makeup, Hairstyling and Personal Styling. (Please read below for more details)
This program covers the following workshops:
Makeup (4 hours)
Hairstyling (4 hours)
Personal Styling (2.5 hours)
Batch sizes are kept small and exclusive (max 6 participants) and are extremely personalized and practical in nature to ensure that each participant gets the attention that they deserve. All faculty teaching this workshop are highly qualified experts from the industry.
The program & dates are customisable. You can add more workshops or drop any of the workshops to suit your preferences. For further details please contact 0416344559 or email info@dashfinishingschool.com.au
DATE & TIME: (For other dates please contact us)
2nd June (Sat), 1.30pm-5.30pm, Hairstyling Workshop
3rd June (Sun), 10am-12.30pm, Personal Styling Workshop
3rd June (Sun), 1.30pm-5.30pm, Makeup Workshop
VENUE: Malvern, Victoria (Detailed address upon registration)
PREREQUISITE: No prior experience required
WORKSHOP TAKEAWAY: Beauty & Styling Handbooks & a letter of completion
PLEASE BRING ALONG:
For Makeup / Hairstyling Workshops: All your makeup & brushes / Hairstyling brushes & equipment that you may have and are advised not to buy new products for this program as we can assist you with what you own & supplement with what you don't. We will recommend new products based on your skin / hair type which will make it easy to go shopping for the right products.
For Personal Styling Workshop: Scarves that you may want to style. Incase you don't have any, you're more than welcome to borrow ours.
PROGRAM DETAILS:
MAKEUP
This workshop broadly covers:
• Prepping & perfecting your skin with moisturizer & primer
• Flawless application of concealer, foundation & compact
• Highlight & contour according to your face shape
• Application of eye primers, shadows & the correct technique of blending
• Perfecting eyeliner, kohl & mascara application for your eyes
• Brow filling
• The secret to application of perfect lipstick
• Getting your blush right
• Perfecting the smokey eye
• Quick make-up coverups & how to make your make-up last longer
• Selecting make-up according to your skin type & tone
• Learn different makeup looks.
• Learn the correct use of make-up brushes, products and various tools & be able to put together a basic make-up kit
HAIRSTYLING
This workshop broadly covers:
· Recognize your own hair & scalp type & how to care for it.
· Identify various hair products, tools and equipment.
· Learn concepts such as: Twists, Braids, Poufs, Buns, Knots, Runway Pony
· Perfect techniques such as: Backcombing, Sectioning, Blow wave, Straightening & Curling.
· 6 Final hairstyles
PERSONAL STYLING:
The workshop broadly covers:
• Identifying and adding to your own personal style
• Color analysis & identifying your coloring
• Understanding & creating a balance between fads, trends & classics.
• Dressing as per your body shape to highlight the assets & minimize the flaws.
• The art of illusion & camouflage dressing and layering
• Conducting a wardrobe assessment & wardrobe planning
• Budgeting for your wardrobe
• Dress codes, occasion dressing & dressing age appropriately
• Clothing Combinations
• Accessorizing
• Scarf Styling
• Quality and fit
• Shopping tips
• Other styling tips & tricks
Bookings are essential and 100% in advance. Limited seats per batch !
+ More
What you will learn
Personal Styling (2.5 hours)- Know your style, body shape, colors that suit, layering, fit & illusion dressing.
Makeup (4 hours)-Learn to do your own makeup and put together 3 different looks (Day, Evening & Special occasions).
Hairstyling (4 hours)- Learn Braids, Poufs, Buns & Chignon, Twists, Curls, Pony & more.
What you will get
Letter of completion
Your own hairstyling, personal styling and makeup handbook
Expert tuition
---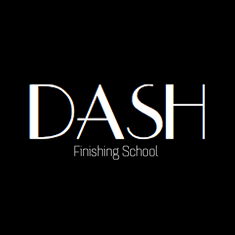 Dash Finishing School was established in Melbourne, Australia in 2016 as an initiative to encourage self-development and personality enhancement for children, girls and boys as well as men and woman alike. We offer courses that aim to enrich every aspect of a participant's personality, creativity and appearance thereby making them versatile and well-groomed individuals.
Our courses include art of fine dining, hosting & entertainment, body language & communications, makeup, hairstyling, skincare & haircare, personal styling, amongst many others. These courses may be taken up individually as a 1-2 day workshop or as a holistic program which are for 4-6 weeks. These holistic programs are Finishing & Deportment program, Young adults finishing program, Childrens' finishing program, bridal grooming, corporate grooming & image building.
Workshops at Dash are designed to be exciting, interactive and extremely personalized. Our workshops are primarily practical in nature to give participants a hands-on experience in learning. In-class teaching methods are adapted to suit individual style & perception. Batch sizes are kept small and exclusive to ensure that each and every student gets the attention that they deserve.
Dash has a mix of in-house and visiting faculty, all of who are highly qualified experts from the industry and top names in their fields, all of whom are committed to inspirational teaching and to the provision of an outstanding enrichment program.
+ More
---
Cancelation & Refund Policy
Cancellations with a full refund are only applicable if cancellation occurs 3 weeks before the date of the course. Post that we don't accept any cancellations; we can however offer the attendee a place in our next batch. Should a cancellation of the class arise because of us or our faculty due to unforeseen circumstances, a full refund will be made. We do not hold responsibility for no show and cannot guarantee a slot in the other batches. If due to unforeseen circumstances, the student is unable to attend the course, we can inform them about slot availability for the upcoming batch of that particular course. Participants withdrawing after the course or workshop has commenced are not entitled to a refund.
+ More
Terms & Conditions
Any discounts are against the company policy unless there is an ongoing promotional offer for a specified period.
Our courses & workshops can sell out up to a week or more in advance as numbers are limited. Places are reserved for paid registrations only. If you know you are available on the workshop date(s) we recommend you pay early to avoid disappointment. Dash Finishing School maintains the right to postpone or cancel a course or workshop if minimum numbers are not obtained for that event. Participants will be notified before class commencement and are entitled to attend another class or receive a full refund if necessary.
+ More
---