Like weely giveaways? Like exclusive classes? Like special offers?
Then your'll love our Newsletter!
Single Malt Whisky & Artisan Cheese Experience
---
---
Description
"This experience showcases an impressive and independent selection of single malts ranging in style, origin and age statements, accompanied by spectacular international and local artisan cheeses.
A most distinguished and sophisticated tasting experience for a mature and discerning palate…Or to the contrary, anyone looking for a completely new taste sensation and thorough introduction to the world of whisky.
The event takes place at 6.30pm in a most impressive and relevant venue; The World of Whisky, Double Bay; Australia's only specialty whisky store. www.worldofwhisky.com.au located in the Cosmopolitan Centre, Double Bay.
This masterclass is co-presented by Cheese Expert Claudia Bowman and Australia's top single malt expert David Ligoff who will enthral you in their showcase of an impressive and independent selection of single malts and artisan cheeses.
Our expert's passion for single malt whisky will inspire, delight and energize you!"
+ More
What you will learn
Showcases an impressive and independent selection of single malts ranging in style
Know the origin and age statements
Learn from the experience of spectacular international and local artisan cheeses
What you will get
Expert tuition from an experienced teacher!
---
What to wear
Casual (Apron)
---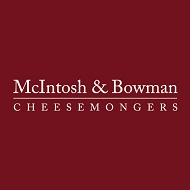 As Australia's largest cheese education and appreciation company, we specialise in tasting events with Artisan and Farmhouse Cheeses produced by the very best cheese makers from Australia and around the world.
We support and promote cheese makers who use the kind of traditional cheese making techniques that are endangered by modernisation and standardisation in the food industry. We and are proud advocates of 'Slow Food' principles, which protect the biodiversity and quality of our supplier's cheese. With these suppliers, our principled foundations and a commitment to excellence in presentation, research and anticipating customer needs, McIntosh and Bowman set the standard in cheese catering and education.
We aim to boost the Australian public's knowledge of and interest in the wonderful world of cheese through a series of appreciation courses, activities, cheese making workshops and local and international cheese tours.
Since 2006 McIntosh & Bowman Cheesemongers have been offering cheese lovers of Australia the opportunity to explore and indulge their passion for all things cheese with a variety of tasting events, culinary tours and cheese making workshops.
International Cheese Expert, Claudia Bowman (nee McIntosh), of the 'McIntosh & Bowman' partnership is the face of the company and has been the driving force and inspiration, drawing from her original and exceptional experiences abroad.
Her passion for cheese is immense and for the past 11 years she has immersed herself in cheese focused activities around the world.
+ More