Kids School Holiday Workshop
---
---
Description
Get the kids away from computer screens!
Painting is a fun, relaxing way to spend the school holiday and learn creative arts! We will be making some very exciting creations.
Parents and friends are also welcome. This class is for everyone!
+ More
Class Schedule
Wednesday, 5th October | Thursday, 6th October | Friday, 7th October Duration: 2 Hours
What you will learn
Painting is a fun, relaxing way to spend the school holiday.
Explore and enhance your creativity!
Learning about art is more fun with a group. Bring a friend!
What you will get
Project/s you will work on in class.
Great way to meet new friends!
---
What to bring
Canvas and a picture of what you want to paint
What to wear
Wear old clothes you don't mind getting dirty.
Appropriate for
Ages 5 to 105. This is for everyone! Great for families, friends, parties and get-togethers.
---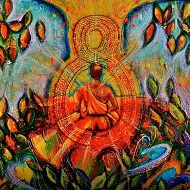 Heidi Lee Warta is of European descent & lives in the beautiful Northern Beaches of Sydney.
Beginning her artistic journey at a young age Heidi went on to complete a 2 year Graphic Design Course at Randwick TAFE, Sydney Australia in her late teens.
She also studied life drawing, technical drawing, colour, form and pottery for several years after.
For the next four years Heidi Lee continued working as an artist in a printing firm. Heidi then traveled for many years living a life rich with adventure, soul searching and experience. Heidi acquired skills from artist courses where she learned a wide variety of painting methods and mediums.
In 2012 Heidi Lee was living in Indonesia where she volunteered her time and materials and painted with the beautiful children at the YPAC Disabled Orphanage over a whopping 18 week period. The paintings Heidi and the children completed were auctioned for $10,000. Over $20,000AUD for the YPAC Orphanage was raised in total. This experience was a profound turning point in Heidi's life.
Inspirations & Heidi Lee
Nature, traveling, markets, culture, ceremonies, oceans, diving, fish, photos, happy snaps, books, drumming, dancing, randomness, sunsets, flowers, fruit, organic, leaves, fire, smiles, faces, boldness, rain drops on webs, fresh, dreams, cuddles, cooking, meditation, fitness, wild animals, spirituality, textures, hammers & art tools, mold, dirty things, artists, musicians, stories, dress ups, parties, connecting, candy, rustic furniture, originality, personality, tragedy, intelligence, vibration, feelings, fast cars, fashion, colour, satori, yoga, real estate, rainbows, energy, crystals, rocks & minerals, motorbikes, music, waves, laughing, bodies, skies, unique souls, elation, moments with people…..clouds, sunsets, blessings & light!
+ More