Beginners Embroidery Workshop
---
Next Available: Thu, 07 Jun 6:30PM
---
Description
What: Beginners Embroidery Workshop
When: Saturday 17th March 2018 11am-2pm
Where: 1/177 Beavers Rd. Northcote
Includes: All materials, grazing food, organic wine & fairtrade tea
Enquiries: workshops@putyourheartintoit.com.au
Description:
This workshop will give you the skills to bring your project to it's completion, and the confidence to complete other pieces.
You will learn how to turn an original idea or image into an embroidered design. Through the hours we will cover stitches ranging in complexity and texture, including; satin stitch, running stitch, back stitch, chain stitch, turkish stitch and french knots. Instruction will be offered in all of these to suit the individual needs of each person and their piece.
The beginners embroidery workshop is an opportunity to learn new skills and use them to explore a childhood drawing pastime. No drawing skills necessary, we will each create uniquely individual squiggles as the basis for what will become your own beautifully hand embroidered art work over the course of the day - ready to hang in your home!
"Making brings us together while allowing us to be ourselves." (The Maker, Maynes T)
This quote embodies what we will foster throughout the workshop.
The act of stitching is meditative and therapeutic. You will learn new skills and come away with something you have made but hopefully you will also find this an opportunity to be present and mindful, an opportunity to find time and perhaps slow down for a few hours - relax and enjoy the company of friends (or soon to be friends!) with delicious local produce to snack on and the serene Merri Creek as your background.
Your teacher:
Georgia graduated from a Bachelor of Fine Art from RMIT in 2015. Since working and travelling abroad and around Australia she has returned to Melbourne to focus on what she truly loves - making. Georgia is establishing a creative career with a focus on community and the opportunity to share with others what makes her so happy was one not to be missed.
Her personal style is an exploration of texture - art that asks to be (and can be!) touched.
Embellished embroidered pieces utilising indiscriminate colour create work full of detail to be discovered at each look. Her work can be viewed on instagram and etsy.
Instagram: @_gerk_
Etsy: GERKstudio
We create a beautiful, warm atmosphere to make you feel at home in our cosy, plant filled studio. We encourage attendees to slow down, share stories and take the opportunity to connect with others in our community.
We are proud to support local artists, ethical businesses and community groups and we consider our impact on the earth it's people in every aspect of our business. We are always learning and improving our processes.
Extra info: All workshop topics available as a customised private workshop with a min of x10 at our studio or at a location of your choice. We also offer sustainable event management, catering - grazing tables, lighting & floristry. We cater for all diets - vegan, lactose & gluten free.
Directions: Put Your Heart Into it Studios lives inside of Big Bang Studios nestled on the banks of the Merri Creek: 1 / 177 Beavers Road Northcote. Please drive to the very end of Beavers Road and you will come to a dead end near the Merri Creek. Come past the glass doors on the left, large black garage roller door, then past the red door. Then enter left via the bark mulched garden onto the deck and we are the second door along.
www.facebook.com/putyourheartintoit
https://www.instagram.com/putyourheartintoit/
www.putyourheartintoit.com.au
+ More
What you will learn
How to properly assemble and use embroidery equipment to achieve optimum results
Foundation embroidery stitches
How to expand skills learnt in the workshop to use in confidently developing future embroidery pieces
What you will get
Information sheet detailing subjects covered in the workshop
Foundation embroidery kit (so you can keep sewing!)
Your own finished artwork ready to hang
A grazing table of local produce for snacking, including wine, tea and coffee
---
What to bring
All Materials are provided
What to wear
Whatever you fancy
Appropriate for
All levels of stitching experience welcome
---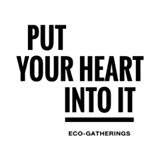 Put Your Heart Into It is a collaborative team hosting insightful and creative events and workshops in and around Melbourne and Country Victoria. Our mission is to create sustainable and eco-conscious experiences that not only inspire but aim to promote a slower lifestyle, where simplicity and community involvement are cultivated as well as nurturing a hands-on approach to getting creative.
Events and workshops are run in ever-changing and intricately styled spaces that are sure to inspire and promote creativity. Each experience offers you the chance to meet some incredible new people, graze on delicious, sustainable and locally sourced produce as well as gaining a wealth of knowledge to set you on your path to creativity.
Our team includes an array of artists and professionals that have worked within their fields of expertise for many years, so as to offer you the best knowledge possible. We love collaborating with non for profit and ethically minded businesses, community groups and schools and can customise a creative eventor workshop to suit your needs.
Experiences can be as simple or complex as required and we can offer a diverse range of disciplines andcreative pursuits. The Put Your Heart Into It team can create an all-round experience that will leave everyone feeling inspired. For more information on our workshops and events, as well as tailored experiences, please get in touch.
We also offer eco-concious event planning services, customised hens parties, workshops for corporates and birthdays. As well as our popular catering service of intricately styled grazing tables of local & organic produce, wedding and event styling including floristry installations.
Located at Big Bang Studios. 1/177 Beavers Road Northcote 3070
+ More
---
Cancelation & Refund Policy
Please refer to clause (1) of our Terms & Conditions.
+ More
Terms & Conditions
Terms and Conditions
This contract outlines an agreement and includes all contractional obligations on even date between Put Your Heart Into It and the You the Customer in regard to the Workshop to which this booking confirmation pertains.
(1) All bookings are Non-Refundable
(2) All Bookings are Transferable to a second party in the event that the customer is unable to attend the workshop, such transfers must be requested 7 hours prior to the Workshop for desired transfers to be eligible.
(3) In the rare event that Put Your Heart Into It is required to cancel a Workshop the customer will receive either a full refund within 3 days of said cancellation or the opportunity to transfer said booking to another Put Your Heart Into It workshop of even value within 12 (twelve) months of said cancellation.
(4) Cancellations may be advised by Put Your Heart Into It at any time prior to the Workshop event.
(5) Put Your Heart Into It reserves the right to use any images taken at the workshops for Social Media & Advertising, if you wish for images not to be shared Put Your Heart Into It requests same to be expressed in writing prior to Workshop event.
(6) In the Event that you do not agree with the above Terms & Conditions you may request a full refund within 48 hours of even date of receipt of this booking confirmation.
+ More
---