Handbag Class - Beginners 9
---
---
Description
In this class you will learn how to carve your cake, ganache your cake in preparation for covering with sugar paste. You will learn how to create a quilted effect make an edible zipper and learn how to make the designer logo.
You will also learn how to make sugar paste cut outs and how to apply them to the cake. A light lunch and refreshments are provided. Please wear comfortable enclosed shoes.
+ More
What you will learn
How to carve your cake, ganache your cake in preparation for covering with sugar paste.
How to create a quilted effect make an edible zipper.
How to make the designer logo.
What you will get
A light lunch will be provided and refreshments.
---
What to bring
Students must know the basics, before attending the following classes.
What to wear
Please wear comfortable enclosed shoes.
Appropriate for
Not suitable for all beginners, only for students who have attended the beginners bow or shooting stars class or who have already decorated cakes setting up their cakes with chocolate ganache.
---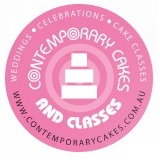 Contemporary Cakes and Classes
Our classes are professional, enjoyable and produce amazing results each time. We have created a wonderful environment for you to learn in and have the very best cake decorating studio facilities in Brisbane. With up-to-date tools and further extras in each class that Jackie teaches, you will be learning from the very best.
We are a family owned business and have a large range of baking and cake decorating classes for you to attend.
Jackie the owner behind the apron has been creating cakes for over 30 +years.
We are food licensed and have a 5 Star Rating with Logan City Council.
Jackie is a trained chef and pastry chef and attended Highbury College UK the same time with Master Chef Gary Mehigan.
Jackies cakes and designs have been featured in films, tv shows and her written tutorials that have been published in Australian and International Cake Magazines too.
If you want to take your cake hobby to a home based business, Jackie can teach you how. Regular business classes are available for you to attend.
About "Contemporary Cake Designs: Book One"
Jackie Thompson has just about done it all! Jackie emigrated to Australia in 2004 where she established her own highly successful Contemporary Cakes and Classes cake decorating business in Brisbane. Jackie is a highly qualified chef and pastry chef who has worked in some of the grandest five-star hotels in UK and Europe. She has created cakes and food for Bridget Jones, The Edge of Reason, Finding Neverland, Wimbledon and Iris in the UK, and she is qualified at the highest level of British City and Guilds in Sugar craft in all aspects of cake decorating and flower making.
And now Jackie has harnessed her significant experience and passion for baking and cake decorating into a very practical DIY book for decorators of all levels. Her first book, "Contemporary Cake Designs - Book One", brings together a wealth of knowledge about recipes, baking and twelve (12) distinctly different decorated cake projects that allow the reader to learn how to decorate at their own pace in their own home, with the aid of some amazing photos.
Contemporary Cake Designs - Book One is not just another book about cake decorating. It is a book that is filled with a wealth of wonderful tips on what to do, what not to do, how to do it and why not to do it and it has an amazing 500+ photographs that make this book a pictorial step-by-step guide on some of the intricate techniques of this growing craft.
"I take inspiration from life – from the environment and friends and I use these daily lessons to build ideas for my cakes" Jackie said. "And it is this positive attitude for life that has driven me to try to create a book, a DIY tool, which will take my craft to the masses."
You can purchase Jackies first book with your class booking. You will receive a signed copy at your class.
+ More
---
Terms & Conditions
Terms and Conditions
Cancellation Policy: Once you have registered and paid for a class, you have purchased your place in the workshop and there are no transfers, refunds or cancellations possible for any reason. By purchasing this course you agree to this policy. Please note if you are unable to attend you are able to send a friend in your place.
+ More
---