Description
What: Ceramic Planter Workshop
When: Wednesday August 30, 6.30pm - 9.30pm
Where: 1/177 Beavers Rd. Northcote
Includes: All materials, grazing food, organic wine & fairtrade tea
Enquiries: workshops@putyourheartintoit.com.au
Description:
Hand building with clay offers endless possibilities for creating a variety forms. In this workshop students will be shown how to handmake a ceramic plant holder. Various surface decoration and textures will be used to create their own unique piece, such as stamps and found objects such as leaves. If you have a favourite stamp at home, please bring it with you!
This workshop is ideal for those wanting an introduction to the clay making process, to develop new skills and create your own planter which you can take home once fired! No experience necessary, just bring your imagination! Both one-on-one & group demonstrations given by the teacher, Sarah Schembri.
Stoneware clays will be used in this workshop.
All items created will be glazed by the teacher after the first firing. All glazes used are food safe and microwave safe.
Students will be emailed once their work is ready for collection.
Your Teacher:
Sarah Schembri is a ceramic artist who is passionate about creating functional, tactile and visually appealing ceramics, particularly tableware. Being a lover of cooking and food in general, she is most interested in making pieces that are a pleasure to use in the home, pieces which are not only visually appealing but also functional & tactile.
"There is something quite special about using pieces that are handmade - the experience and food taste better. This is a feeling that I think about when I'm creating, it's part of the experience I want to share with others." - Sarah
Instagram: https://www.instagram.com/sarahschembri_ceramics/
Facebook: https://www.facebook.com/sjschembri/
Website: http://www.sarahschembri.com/
We create a beautiful, warm atmosphere to make you feel at home in our cosy, plant filled studio. We encourage attendees to slow down, share stories and take the opportunity to connect with others in our community.
We are proud to support local artists, ethical businesses and community groups and we consider our impact on the earth it's people in every aspect of our business. We are always learning and improving our processes.
Extra info: All workshop topics available as a customised private workshop with a min of x10 at our studio or at a location of your choice. We also offer sustainable event management, catering - grazing tables, lighting & floristry. We cater for all diets - vegan, lactose & gluten free.
Directions: Put Your Heart Into it Studios lives inside of Big Bang Studios nestled on the banks of the Merri Creek: 1 / 177 Beavers Road Northcote. Please drive to the very end of Beavers Road and you will come to a dead end near the Merri Creek. Come past the glass doors on the left, large black garage roller door, then past the red door. Then enter left via the bark mulched garden onto the deck and we are the second door along.
+ More
What you will learn
How to work the clay to create an organic, free formed planter
How to incorporate texture and apply surface decoration.
Techiniques to build a sturdy, robust and beautiful planter
What you will get
All materials and tools provided including stoneware clays, stamps for textures.
Welcomed into the Put Your Heart Into It community whilst giving yourself time to be mindful & creative.
Pick up your glazed and fired planter from our studio to use for years to come.
Wine and tea
---
What to bring
All materials supplied
If you have a favourite stamp or leaf at home, please bring it with you.
A box, container, bag when collecting your fired pieces. We will give you the dates & times of when you can pick it up from us on the night.
What to wear
Whatever you fancy
---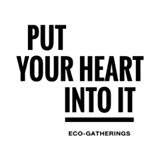 Put Your Heart Into It is a collaborative team hosting insightful and creative events and workshops in and around Melbourne and Country Victoria. Our mission is to create sustainable and eco-conscious experiences that not only inspire but aim to promote a slower lifestyle, where simplicity and community involvement are cultivated as well as nurturing a hands-on approach to getting creative.
Events and workshops are run in ever-changing and intricately styled spaces that are sure to inspire and promote creativity. Each experience offers you the chance to meet some incredible new people, graze on delicious, sustainable and locally sourced produce as well as gaining a wealth of knowledge to set you on your path to creativity.
Our team includes an array of artists and professionals that have worked within their fields of expertise for many years, so as to offer you the best knowledge possible. We love collaborating with non for profit and ethically minded businesses, community groups and schools and can customise a creative eventor workshop to suit your needs.
Experiences can be as simple or complex as required and we can offer a diverse range of disciplines andcreative pursuits. The Put Your Heart Into It team can create an all-round experience that will leave everyone feeling inspired. For more information on our workshops and events, as well as tailored experiences, please get in touch.
We also offer eco-concious event planning services, customised hens parties, workshops for corporates and birthdays. As well as our popular catering service of intricately styled grazing tables of local & organic produce, wedding and event styling including floristry installations.
Located at Big Bang Studios. 1/177 Beavers Road Northcote 3070
+ More
---
Cancelation & Refund Policy
Please refer to clause (1) of our Terms & Conditions.
+ More
Terms & Conditions
Terms and Conditions
This contract outlines an agreement and includes all contractional obligations on even date between Put Your Heart Into It and the You the Customer in regard to the Workshop to which this booking confirmation pertains.
(1) All bookings are Non-Refundable
(2) All Bookings are Transferable to a second party in the event that the customer is unable to attend the workshop, such transfers must be requested 7 hours prior to the Workshop for desired transfers to be eligible.
(3) In the rare event that Put Your Heart Into It is required to cancel a Workshop the customer will receive either a full refund within 3 days of said cancellation or the opportunity to transfer said booking to another Put Your Heart Into It workshop of even value within 12 (twelve) months of said cancellation.
(4) Cancellations may be advised by Put Your Heart Into It at any time prior to the Workshop event.
(5) Put Your Heart Into It reserves the right to use any images taken at the workshops for Social Media & Advertising, if you wish for images not to be shared Put Your Heart Into It requests same to be expressed in writing prior to Workshop event.
(6) In the Event that you do not agree with the above Terms & Conditions you may request a full refund within 48 hours of even date of receipt of this booking confirmation.
+ More
---