Beginners African Drumming Classes - St.Kilda
---
Next Available: Tue, 22 Jan 6:15PM
Book Now (http://weteachme.com/l/y4XfEvgr)
---
Description
Learn from Davey
Dave has been studying and performing west African percussion for the past 6 years.
After discovering a drum circle in St Kilda on his first week in Australia, he was drawn to the sound of the Djembe and the obsession began!
Dave studied with traditional masters in Ghana in 2010 and continued his apprenticeship in Australia under the guidance of Simon Fraser, Mady Keita, Boubacar Gaye and Jeremy Prentice. Dave performs regularly in Oz and Ireland incorporating his love of African beats into myriad genres of music. He always brings his Irish charm, warmth and a sense of humour to his classes whilst still respecting the traditions and history of its origins.
+ More
What you will learn
Develop groove, control and listening skills.
Experience the joy of community music
Learn basic techniques on the djembe (Bass, Tone and Slap) and West African rhythms
What you will get
Knowledge of West African drumming and control of easy-to-follow rhythms
10% student discount storewide
Access to our social media networks and resources
Concession rates available. Please present your card in class.
---
What to bring
We will have a drum ready for you at class – you don't need to have your own. Ask your teacher about renting a drum so you can practice between classes
Appropriate for
Beginners. No experience required at all.
---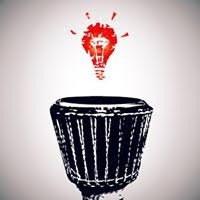 Established in 1997, African Drumming has become Australia's trusted name in West African music.
We are dedicated to sharing the music and culture of West Africa in all that we do: through classes, workshops, study tours and performances which connect a wide audience with this powerful music. Not to mention our instruments! We are one of the largest African music stores in Australia and we love our drums.
In 2011 we relocated from a little store in Grey Street to a larger purposed Head Quarters @ 252 St Kilda Rd, St Kilda. Our HQ houses both the brains and brawn of the operation, with our showroom, studios, offices, warehouse and the all important drum making workshop here under one jamming roof. We love it in St Kilda!
We have a nation-wide network of drummers and dancers under our banner and operate across Australia. Our team includes performers and drum makers from around West Africa such as Mali, Senegal, Ghana and of course homegrown talent too.
We're always looking to the future and constantly working on the next big project, event and product.
+ More