Beginners Spanish Intense 6 (CBD)
---
---
Description
The end of the textbooks, you're heading towards to Lower Intermediate! This course gives you practice using past tenses together (which differs in Spanish to that of English), enabling the conversation to broaden. This level signals the acquisition of the fundamentals of Spanish grammar, so it is looking good from here on in! This is the sixth of the 6 courses which lead to level A1.
You'll be in a group with other like-minded people who are all wanting to learn and improve—whilst having fun.
What you learn ...
talking about parts of the body (el cuerpo)
talking about health / physical statesexpressing obligation / possibility / prohibition (tener que / hay que)
using impersonal expressions (se puede + infinitive / hay que + infinitive)
expressing conditions (si + present, present / si + present, imperative)
using direct / indirect objects together (me lo/la/los/las / te lo/la/los/las / se lo/la/los/las ...)
more practice using the imperfect (trabajaba / tenía / vivía)
describing actions that are interrupted (estaba leyendo cuando sonó el teléfono)
making comparisons (más que / menos que / tanto/a/os/as como)
narrating a story / describing a person's life (combining past tenses)
reading about famous Spanish / Latin American personalities
Textbooks are needed for this course - Nuevo Ven 1, Libro del Alumno (2 CDs, $58.99) and Workbook in English (1 CD, $28.99). These may be purchased from El Patio at your first class.
+ More
Class Schedule
5 classes x 3 hours per session
What you will learn
Talking about parts of the body (el cuerpo)
Talking about health / physical states
Expressing obligation / possibility / prohibition (tener que / hay que) ... more below
What you will get
Small, fun and social, with a teacher who knows how to teach languages!
A good base to begin building your Spanish
---
What to bring
Pen, paper and heaps of enthusiasm!
Appropriate for
This is for people who have done a bit of Spanish
---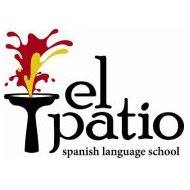 El Patio specialises in Spanish, with short courses for beginners through to proficient. We pride ourselves on our healthy numbers of continuing students at advanced levels. Classes are small, serious but fun, and are suitable for those wishing to become fluent in Spanish, for travellers, partners of Spanish-speakers, and those who want to train their brain.
+ More