Beginners Spanish Express 1 (Northcote)
---
---
Description
This 30-hour course is the equivalent of Beginners 1 and 2 (or two Intense courses in succession). This is for absolute beginners. We'll get you started with greetings and presentations, asking and giving personal information, alphabet, pronunciation, numbers, and more. We move on to practical things such as directions, the time, transport and ordering food. This is the first and second of the 6 courses which lead to level A1.
You'll be in a group with other like-minded people who are all wanting to learn and improve—whilst having fun.
What you learn ...
greetings / presentations (¿cómo te llamas? / me llamo ... )
asking / saying your name, nationality, what you do, where you live
pronunciation / the alphabet / numbersdemonstrative adjectives (this/these: este / esta / estos / estas)
formal and informal modes of address (tú / usted ) masculine / feminine nouns (el sillón / la silla)
masculine / feminine adjectives (mexicano / mexicana)
asking / saying where things are (al lado (de)/ a la izquierda (de) / a la derecha (de))
describing where you live (vivo en una calle ...)
interrogatives (¿dónde? ¿de dónde? ¿qué? ¿cómo?)
ordinal numbers (primero/a / segundo/a …)
asking / responding about quantities (¿cuánto? ¿cuánta? ¿cuántos? ¿cuántas?)
contracting a + el / de + el (al / del)
basic present tense verb patterns (the 3 types: –AR / –ER / –IR)
asking for the existence of a place (¿hay un/una ... por aquí?)
asking where something is (¿dónde está el café?)
saying where something is (está en esta calle al lado del banco)
asking / giving directions to go there (¿cómo voy? / giras a la derecha ...)
asking / telling time (¿qué hora es? / son las cinco y cuarto)
asking / telling transport timetable information (¿a qué hora sale el tren? / sale a las tres y media)
asking / telling how to take the metro (tomas la línea 3 y vas hasta la estación ...)
ordering in a bar / restaurant (¿qué va a tomar? / un vino por favor)
expressing likes / dislikes / preference (me gusta / me gustan ...)
asking someone to do something, introduction to commands (habla / bebe / abre)
more irregular verbs in the present tensespeaking practice of all the abovehelp with grammatical terminology!
Textbooks are needed for this course - Nuevo Ven 1, Libro del Alumno (2 CDs, $59.99) and Workbook in English (1 CD, $28.99). These may be purchased from El Patio at your first class.
+ More
Class Schedule
10 classes x 3 hours per session
What you will learn
Greetings / presentations (¿cómo te llamas? / me llamo ... )
Asking / saying your name, nationality, what you do, where you live
Pronunciation / the alphabet / numbers ... more below
What you will get
Small, fun and social, with a teacher who knows how to teach languages!
A good base to begin building your Spanish
---
What to bring
Pen, paper and heaps of enthusiasm!
Appropriate for
This is for absolute beginners.
---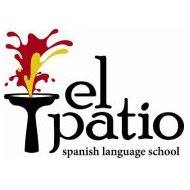 El Patio specialises in Spanish, with short courses for beginners through to proficient. We pride ourselves on our healthy numbers of continuing students at advanced levels. Classes are small, serious but fun, and are suitable for those wishing to become fluent in Spanish, for travellers, partners of Spanish-speakers, and those who want to train their brain.
+ More