DESERT EXPERIENCE 11-18/9/17 Drawing-Painting-Moving at Fowlers Gap
---
---
Description
7-days of Drawing, Painting and Moving at FOWLERS GAP 11/9/17 - 18/9/17
with Rena Czaplinska-Archer PhD and Victoria Hunt
Come with us on a journey of discovery into the Australian Desert. Let go of stories, of who you are, what you know and what to expect and be open and willing to be moved by the desert. Let's explore together and discover your creative response while being gently guided by visual artist Rena Czaplinska and movement artist and choreographer Victoria Hunt.
Mornings will begin with a somatic focus on mindfulness and movement to tune our perceptions and deepen our connection to ourselves and the world around us. As we awaken our senses while listening with the whole body, we develop poetic sensibility and intuition, which enrich our perceptions and become visible in our gestures which flow into all kinds of movements including paintings, drawings and site specific performances. We will be exploring different landscapes and locations through drawing painting moving followed by a group exhibition on the last day. We will be staying in the Sheep Station of the UNSW Fowlers Gap Research Station 115km away from Broken Hill.
drawing moving painting pausing writing immersing exploring
This work is informed by traditions centered in body wisdom grounded in mindful attunement including Bodyweather, Body Mind Centering, and Anna Halprin Art/Life Process. To explore the question of perceptions and the changing ways of seeing we will be "taking lessons" from selected group of Australian and international contemporary and classical artists, poets and writers as well as indigenous Aboriginal and Maori mythology. The evening program will include films about art, presentations and discussions.
Beginners and experienced artists, painters and dancers with interest in art and desert ecology are welcome.
"Instructions for living a life: Pay attention. Be astonished. Tell about it" Mary Oliver
starts in Broken Hill on Monday 11th September at 8pm
finishes in Broken Hill on Monday 18th September at 12pm
COST: $1,900 early bird/discount or $2,100 by 11/8/17
Cost includes accommodation/meals from 12/9-18/9 in Fowlers Gap and transport from Broken Hill to Fowlers Gap and back
info: timefordrawing@tpg.com.au or call Rena on 0409 967 411
TEACHERS:
Rena Czaplinska-Archer PhD, visual and somatic artist and an architect - RENA is a lifelong educator, visual artist a practicing architect, former Sydney University lecturer, student of AnnaHalprin and a founder of Time for Drawing workshops and Embodying Vision program which integrate sketching mindfulness andparticipants to shift from their habitual ways of moving, seeing and thinking and releases their natural impulse to draw. Rena has a particular interest in the practice of authentic movement, and drawing as an inquiry into the nature of experience. Website: https://www.facebook.com/timefordrawing/ and http://timefordrawing.rena.net.au/
Victoria Hunt, dancer, choreographer, teacher and co-curator of weather exchange - VICTORIA is an award winning dancer, choreographer, performer and a founding member of the BODYWEATHER dance companyDe Quincy Co. and has performed in over 40 works with the company since 1999. Her work is supported by her strong tribalaffiliations to traditional Maori culture. She works teaches and performs locally and internationally. Her major award winning soloCopper Promises: Hinemihi Haka toured UK and Canada in 2012, and the most recent major work TangiWai..the cry of water wasnominated for several awards including Australian Dance Award and Helpmann Award in 2015 and performed at Liveworks andDance Massive Website: http://dequinceyco.net/about-us/who-we-are/net and http://www.artfulmanagement.com.au/_/html/victoria_h.html http://www.victoriahuntperformance.wordpress.com
+ More
Class Schedule
$210 paid up front. Balance due on 11th August 2017.
What you will learn
Using pen and ink we will explore how this changes the way we see and becomes visible in our drawings.
You will learn how sense of touch enhances your seeing listening skills and awakens the cellular consciousness of your body
Daily awareness through moment exercises will help us to relax, re-energize our bodies, awaken our senses and inspire our creative impulses
What you will get
Daily guided drawing/painting practice exploring new techniques
Daily movement and sensory awareness practice guided by Victoria, leading dancer in the BODYWEATHER dance company De Quincy Co.
Accommodation in twin rooms in Shearer's Quarters. Single rooms available on request (extra $100). Linen and towels provided.
Delicious organic meals are provided including gluten free and dairy free for those with special needs.
A week of drawing, painting, moving and resting at Fowlers Gap while immersed in the desert location
Pay only $210 up front. Balance due on 11th August 2017.
---
What to bring
Good quality sketch pad A3/A2/A4 charcoal, graphite, colour inks, oil sticks, gouache paint set, ,
apron or old shirt, light folding chair and a hat
What to wear
Bushwalking gear, hat, good shoes and a smile
Appropriate for
from 16 - upper age not defined - but you have to be fit and resilient in the bush setting
---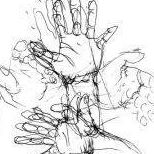 Rena Czaplinska is fascinated by the question of seeing and perceptions and inspired by her lifelong research in somatic movement with Anna Halprin and the writing of Juhanii Pallasmaa.
She is a practicing architect and a passionate art educator who has taught design and drawing for over 20 years at the Architecture Faculty of Sydney University and developed a popular Time for Drawing program which helps the participants to shift from their habitual ways of moving, seeing and thinking and releases their natural impulse to draw.
Rena offers Time for Drawing workshops in Australia and internationally.
+ More