Brixton Street Pottery Classes (Thursday Morning)
---
Next Available: Thu, 26 Apr 10:00AM
---
Description
"Learn the rules like a pro, so you can break them like an artist." - Pablo Picasso
Unleash your inner Picasso and learn to create a work of art with the same kind of confidence and flair!
This six week pottery class caters to all levels of experience and includes hand building, wheel throwing, sculpting and glazing.
Get lessons from an expert teacher, who has tutored many aspiring artists just like you. Brixton Street Pottery will help you enhance your design sense and take your creative chops to the next level!
+ More
Class Schedule
Classes run every Thursdays at 10am-12.30pm
What you will learn
Work with clay on both the pottery wheel and hand-building
Glaze the work they make
The ceramic process from start to finish
What you will get
Expert tuition from a teacher with over 25 years teaching experience and 40 years as a potter!
Small class sizes allowing for individual attention
A clear understanding of the ceramic process
Clay, glaze, and all firing of your work
Your very own hand made treasures to take away
---
What to bring
Plenty of enthusiasm
A towel
What to wear
Casual (Warning: It might get messy)
Appropriate for
We cater for adults with all abilities from the experienced to the novice
---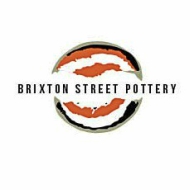 Brixton Street Pottery is the ceramic studio of artist and teacher Gordon Hickmott.
Gordon has been making pottery since 1975 studying Ceramics under Harry Memmott at Prahran College where he graduated in 1980 and set up a small kiln in Elsternwick. At this time Gordon also worked at RMIT, within the Department of Architecture, and with the Arts Train (CAE), which toured rural communities in north-western Victoria, providing opportunities for people to engage in crafts and art.
In the late 70s and early 80s he was involved with the ROAR Studios collective in Fitzroy. During this time he developed life-long relationships with painters and over the years has worked with many to create forms on which these artists have applied their designs. In the 1990s his work was shown in touring shows of Roar Studios, including at Shepparton Regional Gallery and Heide Gallery, and he has worked on many occasions with Mark Schaller and the late David Larwill on collaborative pieces for private commissions and exhibitions. Gordon is known for his large open terracotta and stoneware bowls and when not working with others he concentrates on domestic ware with particular interest in the Japanese traditions and in developing expertise in reduction-fired glazes.
Gordon has been teaching ceramics for over 25 years and is now offering small classes from his studio.
+ More