Description
Michael Smith is an international media adviser with Red Cross during emergencies and disasters. He was Director of Public Affairs with global PR firm Burson Marsteller, a media adviser in Australian and Victorian Governments and is a journalist in Australia and London. He has written for The Bulletin/Newsweek, the ABC and currently writes for the Herald Sun.
Cost: $125/$115
+ More
Class Schedule
Friday May 26, 9:30-4:30pm (teas/coffees provided)
What you will learn
How to get your positive message across.
Press release writing techniques.
Media interview styles and tips.
What you will get
Skills and techniques to communicate more effectively through the media.
---
Appropriate for
Anyone who wishes to improve their skills in communication through media.
---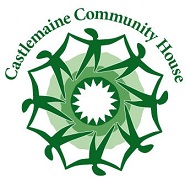 Castlemaine Community House is in Castlemaine, Mount Alexander Shire, within the Central Goldfield region of Victoria. It is situated 120kms from Melbourne, approximately an hour and 15 minutes from the city. Castlemaine is encircled by at least six towns, each with their own particular identity. In addition to its established population, the Shire is a magnet for an increasing population of arts practitioners, tree changers, down shifters and those pursuing an alternative lifestyle based on environmental sustainability.
Castlemaine Community House provides programs and activities contributing to community development and supporting individuals and groups within the local community.
Castlemaine Community House is:
◙ a learning centre
◙ a meeting place
◙ a not-for-profit enterprise
◙ a drop-in centre
◙ a supportive, welcoming placean information network
We have a range of regular activities, educational classes for adults, programs for parents and children, and a large number of community projects which we run or contribute to. We are run by a committee of management and we have a number of staff and volunteers.
2015 marks our 30th anniversary. There is abrief history of our first 30 years
+ More
---
Cancelation & Refund Policy
Refunds Policy Cancellations and refunds policy:
A full refund, less a 10% administration fee will be provided for all booking cancellations requested prior to the course start date.
A refund is payable, less 50% of the course fee for cancellations made within 1 week of the course start date as it can be difficult to fill the space left and replace the lost earnings.
No refund will be issued within 48 hours of the course start date or once the course has commenced.
Any flexibility outside the above policies must be approved by the Castlemaine Community House Manager.
+ More
---