Hot Poppin; Up-cycling glass bottles
---
---
Description
This class will teach you how to 'up-cycle' glass bottles and jars into fun and functional vases, tumblers and jewellery. You'll learn how to make these unique creations using techniques and materials that don't require access to large grinding or cutting equipment, so once you've learned these skills you can get going in your home studio. It is suitable for absolute beginners.
The class will also explore various methods of surface decoration, such as mark makin with a hand engraver, basic sandblasting stencils and low-fire glass decals.
About your tutor:
Laurel has been working with glass since 1999 and has a Masters in Fine Arts majoring in glass. An accomplished artist and technical glass blower, she has exhibited throughout Australia as well as internationally. Her work has been short-listed for prestigious glass art awards – the Ranamok Glass Prize and the Tom Malone Glass Prize.
+ More
Class Schedule
3 hour workshop
---
What to bring
3-4 empty glass bottles or jars
What to wear
covered in shoes and long pants
---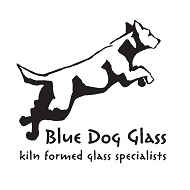 Located in Mordialloc, Melbourne, Blue Dog Glass is a unique business dedicated to offering quality products, tuition and commissions in the field of kiln formed glass. We combine artistic flair, refined technique and practicality to produce items and services of true individuality. We stock an extensive selection of materials and tools for any glass enthusiast as well as providing specialist technical support.
As importers and distributors of Bullseye Glass and Paragon kiln products, our range of glass and products are of the highest quality. At Blue Dog Glass we also provide a personalised commission service including cast hand prints, functional ware, business or sporting awards and architectural lighting design. Our team can collaborate with your business to produce design prototypes and items best suited to your needs.
Classes offered at Blue Dog Glass are conducted by professional artists and offer students the opportunity to learn in a friendly and creatively conducive environment. Our classes cater for absolute beginners and craft makers through to professional artists looking to expand their practice with specialist glass workshops.
+ More