Description
Always wanted to learn how to cast glass? Then this class is for you! In this four day intensive workshop students will produce two cast glass projects using two different methods of production.
Topics covered include: modeling in clay, open face casting, determining volume of glass, refractory mould making, box casting, master mould making, cleaning and basic finishing of glass. There will also be a demonstration in class on hand-building moulds for more complex casting. All mould materials included in cost, students will need to purchase glass approximately $80- $120 depending on the size of the casts.
+ More
Class Schedule
This Class takes place over 4 consectutive days
What you will learn
Glass selection, preparing glass and determining volumes of glass required
Open face casting, box casting and refractory mould making
OH&S requirements
---
What to bring
Students will need to wear suitable clothing, ie an apron or over shirt and covered in shoes. Please bring a dust mask and safety glasses. Enough glass in the form of a billet to cast the hand, this can be purchased as required in class time.
What to wear
Long pants, closed toed and heeled shoes
---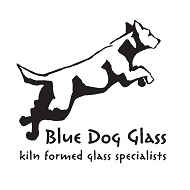 Located in Mordialloc, Melbourne, Blue Dog Glass is a unique business dedicated to offering quality products, tuition and commissions in the field of kiln formed glass. We combine artistic flair, refined technique and practicality to produce items and services of true individuality. We stock an extensive selection of materials and tools for any glass enthusiast as well as providing specialist technical support.
As importers and distributors of Bullseye Glass and Paragon kiln products, our range of glass and products are of the highest quality. At Blue Dog Glass we also provide a personalised commission service including cast hand prints, functional ware, business or sporting awards and architectural lighting design. Our team can collaborate with your business to produce design prototypes and items best suited to your needs.
Classes offered at Blue Dog Glass are conducted by professional artists and offer students the opportunity to learn in a friendly and creatively conducive environment. Our classes cater for absolute beginners and craft makers through to professional artists looking to expand their practice with specialist glass workshops.
+ More