Natural Dyeing with Ilka White
---
Book Now (http://weteachme.com/l/sRZU6Vzr)
---
Description
** Should this page be showing no dates available, please go to this link
Plants have been used to dye fibre and fabric for thousands of years and a beautiful natural palette is still available to you without the need for harmful chemicals. Local weeds or kitchen off-cuts can offer harmonious hues in a range of values and intensity. This hands-on workshop introduces a selection of local colour possibilities, as well as discussing fibre types, mordanting options and safety of dyes. Shibori techniques will also be used to produce patterned cloth. Come and discover some of nature's hidden sources of colour!
CERES members and concession holders are entitled to a 10% discount. Enter "ceresmember" under the promotion and gifts code field.
*Please note that the CERES member or concession discount does not apply to "Bring-A-Friend" tickets which are already discounted
This workshop is wheelchair accessible
Trainer Bio:
Ilka White is an artist, designer and maker of textiles. Her work often responds to the forces at play within the natural world and reflects the principals of sustainability. She is a great believer in the ability of beauty and creativity to lift the spirit. An experienced teacher, Ilka's popular classes also reflect her love of the handmade, and her contemporary use of traditional making methods.
For Information on our cancellation policy please click here
+ More
What you will learn
Natural dyes to use
Colour possibilities
Dyeing techniques
---
What to bring
Rubber gloves
Scissors
Bucket
Large sealable jar / container
Notepad and Pen
What to wear
Old clothing or an apron
---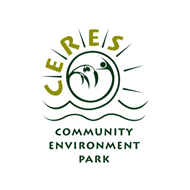 CERES - Centre for Education and Research in Environmental Strategies, is an award winning, not-for-profit, sustainability centre located on 4.5 hectares on the Merri Creek in East Brunswick, Melbourne.
It is also a thriving community, an urban farm, Australia's largest deliverer of environmental education, an event and conference venue and a place rich with social and cultural diversity. CERES is recognised as an international leader in community and environmental practice.
Built on a decommissioned rubbish tip that was once a bluestone quarry, today CERES is a vibrant eco-oasis. 350,000 people visit CERES each year. Many more engage with us through our Sustainable Schools program which takes sustainable education into schools across the state.
CERES' green technology displays, buildings, education and training programs and social enterprises (CERES' Organic Market, Café, Permaculture Nursery and Fair Food organics delivery) demonstrate food security, sustainable agriculture, energy efficiencies, renewables and water conservation in action.
CERES is a model for a future with sustainability, innovation and connectedness at its heart.
Come, be welcome, you never know what you will find on our rambling paths.
+ More