Successful Dating Strategies for WOMEN - Free Class
---
---
Description
NOTE: THIS EVENT IS FOR WOMEN ONLY
Do you keep attracting all the WRONG kinds of guys? Are you pulling out your hair and ready to give up on dating because it's just so hard to attract an AMAZING MAN of substance?
Are you sick and tired of wasting time with men who can't even seem to make up their minds about what they want? Do you just want a guy who can be on the same page as you?
How would it feel to be able to easily and effortlessly attract your IDEAL MAN? Someone who adores and respects you, and wants everything you want...
How would it feel to have the INCREDIBLE RELATIONSHIP you've always dreamed of?
If you're single, frustrated, and sick and tired of all the games, this FREE seminar is for you!
Learn The Principles of Authentic Attraction for WOMEN
Based on his #1 bestselling book The Principles of Authentic Attraction: The revolutionary way to embody your true self and effortlessly attract your ideal partner, Andrew will open up his work and teach you a better, more effective way to date!
By attending you will also receive a digital copy of the book — absolutely free!
Overview: What sets an Authentically Attractive person apart from those who use mind games and manipulation to court and seduce the opposite sex? This seminar highlights the drawbacks of current dating advice and introduces the concepts of Core Attraction and how to tap into the power of your true Core Identity to naturally and effortlessly draw attractive people into your life.
In this session you will learn:
The 5 big dating mistakes most women make and how to avoid them
How to embody you true core identity and become a magnet for attractive, evolved men
How to eliminate the bullshit and maximise energy to become an UNSTOPPABLE force of attraction
How to fully embrace your feminine and your masculine to make you irresistible to men, while creating a rock-solid connection he can't help but to crave 24/7
How to date efficiently and effectively and find your IDEAL MAN
How to be the woman that your MR RIGHT will chase after, while keeping the Mr Wrongs at bay!
By embodying your true self you, eliminate your insecurities and social conditioning that doesn't serve you, and to realign your entire lifestyle to one that energises you and automatically generates attraction from people around you that are perfectly aligned with your values and goals. You become a compelling force of presence that others around you cannot help but to be attracted to.
Andrew will provide powerful and revolutionary insights on the nature of authentic attraction that will profoundly challenge your views on what the so-called "dating game" is all about, and give you practical advice on how to start transforming your entire life.
+ More
Class Schedule
This is a one-off event.
What you will learn
The 5 big dating mistakes most single women make, and how to avoid them
How to find your IDEAL MAN and date efficiently and effectively
How to become that woman that your MR RIGHT will chase after
What you will get
FREE digital copy of the new book "The Principles of Authentic Attraction"
---
What to bring
An open mind and willingness to learn!
What to wear
Casual attire
Appropriate for
This event is for single women.
---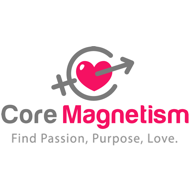 CORE MAGNETISM is a coaching organisation that helps men and women achieve romantic success by unlocking their passion and realigning their entire lifestyle.
Understanding your identity and your true passion will profoundly transform your life.
I help men and women improve every aspect of their lives by helping them identify and understand who they truly are on the inside, and by guiding them through the journey of building self-awareness and taking the necessary steps to realise their ideal lifestyle and ultimate happiness—through purpose, passion, sex, and relationships.
In the past, I submitted to mainstream norms regarding what happiness and success is "supposed to be". I suffered years of corporate misery and a failed marriage, eventually finding myself sitting over the precipice staring potential suicide in the face.
This drove me to reevaluate what is truly important in life, and what really makes me happy. My experiences teaching Leadership Communication and Authentic Leadership Development at Berkeley and my immersion in the underground world of pickup and seduction gave me unique perspective about what truly makes people attractive and happy in life.
I distilled this into a set of principles that I rigorously tested and implemented in my own life and transformed from my desperate, frustrated and depressed self, into an energetic, passionate, engaging, compelling and charismatic force that naturally attracts the women I want in my life, with lifestyle I want, and a vocation that infuses incredible meaning into each and every day.
I life with an incredible sense of purpose. With passion. With energy. With love. With meaning.
I am here to help you escape the mediocrity of an average existence; one fraught with self-imposed limitations, and lacking self-belief. One that lacks true love and passion.
I want to help YOU live without limitations and achieve all that you truly desire in life. This is my personal mission.
+ More