Blacksmith Introduction II
---
Next Available: Wed, 02 May 6:00PM
---
Description
Blacksmithing is the process of shaping and forging metal with the use of heat and tools. This 6 week course introduces participants to the basic techniques of forging.
Students will be shown how to select, heat, and forge steel using an anvil to create their own BBQ tool set. Various techniques will be demonstrated to show students how to work toward their own custom design.
All participants will have their own station in the heritage Eveleigh Locomotive Workshops and use refurbished heritage equipment to make their project. This course is a great way to enter the world of smithing, learn this rare trade and have a lot of fun.
Topics
The properties of generally used steels and alloys
Heating steel using a coal or gas furnace
How to use an anvil
Hand-forging techniques: tapering, bending, twisting, riveting, fullering and finishing
Striking and cooperative blacksmithing
Work safely in a group environment with other blacksmiths
Gift Vouchers
Gift vouchers are posted using Regular post. If you have purchased a gift voucher and would like Express Post, this will incur an extra fee. To arrange Express Post please call Catalina on 0434 941 761.
+ More
Class Schedule
6 Wednesday Evenings, 6pm–9pm
What you will learn
Hand forging techniques
How to use an anvil
Heating steel using a coal or gas forge
What you will get
All materials required to make your projects
Safety gear: leather blacksmithing aprons, eye protection and ear plugs
Set of hand forged BBQ tools and several smaller projects
---
What to wear
Please wear clothing appropriate for a workshop. This includes long pants and sleeves preferably natural fibre, solid shoes/boots
Appropriate for
People wanting to learn a new skill, practicing craftspeople, blacksmith's wanting to refine their skills
---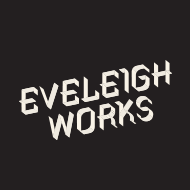 Learn the metal arts at Eveleigh Works in Redfern, Sydney. Get your hands dirty with our short courses in blacksmithing, knife and tool-making. Courses for newbies and old hands, instructed by practicing craftspeople within the heritage workshop of an 1880s locomotive factory.
+ More