Description
Always wanted to try out hand spinning but don't know how to get started? Are you interested in creating your own yarn to use in your weaving, knitting or crochet? Perhaps you have a wheel in the corner not knowing what to do with it! Well this is the perfect opportunity to get started and learn the basics with plenty of tricks and tips along the way.
This class gives the total beginner a brief hands-on experience of the wonderful craft of hand spinning. Participants will be provided with a spinning wheel and fibre and introduced to the basic skills required for spinning a single & plied yarn.
The class will cover preparation of fibre, how to spin a single yarn as well as more complicated techniques such as plying yarns.
This class is the perfect taster of what is involved in the Introduction to Spinning course that is also offered at the Guild, which will build on the skills taught in this taster.
+ More
Class Schedule
6 hours including a half hour break for lunch. 10am - 4pm
What you will learn
Fleece suitability and preparation
Wheel types and adjustments
Basics of spinning techniques including singles & plied yarn
What you will get
Expert skills-based guidance in hand spinning
The use of a spinning wheel for the duration of the class
Fibre to use during the class
---
What to bring
You may bring your own wheel or use a Guild wheel.
Notepad and pencil
What to wear
Casual and comfortable
Appropriate for
No spinning experience is required
---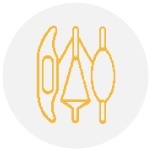 The Guild's aim is to bring together those who practise handweaving, spinning and allied crafts and to help and encourage them to increase their knowledge, understanding and skills by discussion, demonstration, exhibition, teaching and the provision of quality resource materials.

Our Guild rooms house an excellent library and craft supply, sell members work and host a wonderful range of interest groups, classes and workshops.

We have members and affiliated groups throughout the state.

Come and join us!
+ More
---
Cancelation & Refund Policy
Cancellations and refunds
The Guild reserves the right to cancel classes due to insufficient numbers. If we cancel the workshop you will be notified and will be issued with a 100% refund.
If you decide to withdraw 7 or more days prior to the workshop/course date the Guild will retain a 10% administration fee.
If you decide to withdraw less than 7 days before the workshop/course date the Guild will retain 100% of your workshop fee.
+ More
---