4 Week Reformer Pilates Course
---
---
Description
Suitable for anyone new to Reformer Pilates, our four week courses provide you with weekly 60min sessions to introduce you to the Reformer beds and teach you muscle activation, rehabilitation, body alignment, good posture and whole body balance.
Learn how to operate the Reformer beds, perform basic moves, control your breathing, activate sleeping muscles and increase your flexibiility in a small group setting with experienced and knowledgeable instructors.
Exercising is one of the key players in getting that extra energy we all want and need. It is just incredible how much just a little difference in your physical habits can make. After a class of Reformer Pilates you will immediately feel better; exercise releases endorphins, also known as the happy hormone. You won't only feel it after a class - regular exercise will help you gain more energy everyday, even on days you're not working out. So you can ditch the redbull - do some Pilates instead!
+ More
Class Schedule
4 x 1-hour sessions on Tuesdays or Wednesdays 5:45PM to 6:45PM
What you will learn
How to operate the Reformer Beds
Tone and reshape your body
How to safely perform Pilates Reformer moves
What you will get
Complete workout that trains alignment, posture and balance
Rehabilitate old injuries or strengthen weaknesses such as core, glutes, hip flexors, knees and shoulders
Lose weight and become more flexible
Activate your muscles
Generate endorphins and increase energy levels
---
What to bring
Wear comfortable and flexible active wear
If you have long hair it's suggested to tie it up
Water bottle and towel
A lock to secure your belongings in the free lockers provided (no bags permitted in the studios)
Socks are compulsory
What to wear
Comfortable, flexible active wear. Socks must be worn (purchasable at Reception if forgotten)
Appropriate for
Suitable for anyone interested or new to Pilates Reformers. Pregnancy friendly
---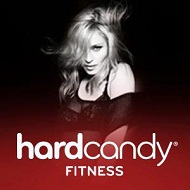 Hard Candy Fitness® is a global luxury fitness brand with a distinctive difference. The brand was created in 2010 by Madonna, the world's leading female pop-icon and well-known fitness enthusiast, and New Evolution Ventures, the world's leading expert in fitness club development and operations. The brand has grown to include club locations in destination cities around the world that are focused on innovative group fitness programming and personalised fitness training.
Uniquely designed to offer a huge assortment of classes and programs, our massive studio in Sydney CBD aims to inspire you to workout hard and play harder.
+ More