Like weely giveaways? Like exclusive classes? Like special offers?
Then your'll love our Newsletter!
Hula Hoop & Booty Camp combo - Southbank
---
---
Description
Boyd Community Hub. 207 City Rd, Southbank
Teacher: Jade aka Jane Fondle
Booty Camp 7-8pm All levels.
Incorporating 80′s Dance, Hip-Hop Dance, Booty Dance, Hula Hoop-Aerobics, striking your tree pose with Voga, squatting, lunging, lots of sass and LOTS of Hilarity, you'll be wishing you could Werq. It. Out! all the time. To really get in the retro mood, we encourage you to dig out your old g-tard (g-string leotard), sweat bands, wide elastic belt, legwarmers, etc. You can wear whatever you like but we believe everything is more fun when you add fluoro and glitter. Wear supportive runners- no stilletos!
Hula Hoop 8-9pm All levels.
Professional instruction by our experienced and talented teachers of all the coolest hula hoop tricks. We cover the basics, moving the hoop up and down your body, isolations, transitions, finding your own groove with the hoop, and fancy tricks to show off to all your friends!
+ More
What you will learn
2 classes back-to-back. A retro fitness class followed by a 1hr hula hoop class.
Get in the retro mood with 80′s Dance, 90′s Hip-Hop Dance, Booty Dance and Hula Hoop-Aerobics
Learn awesome hula hoop tricks!
What you will get
A fitness class where you're having too much fun to realise you're working out!
Dancing to the hottest tunes with a fun group of people of all levels of fitness and ability
Professional instruction by Melbourne's own 80's dance and fitness enthusiast AND pro hula hooper, Jane Fondle
Get fit, tone up, work out, sweat and have fun while doing it!
Learning some rad hula hoop tricks to show off to your friends
---
What to bring
Just your fantastic self and your enthusiasm!
Also a water bottle and a towel
What to wear
Wear whatever you feel comfortable in, or to add even more fun dig out your old retro workout gear: g-string leotard, sweat bands, wide elastic belt, legwarmers, etc. Wear supportive runners - no stilettos!
Appropriate for
This is a class for all levels and abilities.
---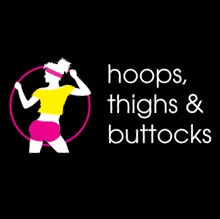 Hoops, Thighs & Buttocks are hot off the press and bringing you Melbourne's best dose of fitness, dance, hula hooping and laughter.
We offer the hottest fitness and hula hoop classes in town! With 3 convenient locations in Brunswick, North Fitzroy and St Kilda there's no excuse for not having your hips swinging and booty shaking with us.
You don't know what you're missing if you haven't tried our fun and sexy Booty Camp classes. And our "Show Us Your Tricks!" Hula Hoop classes will teach you all the coolest hoop moves while you have a great werqout. You can choose to do either one of these classes or be a winner and sign up for both to really Werq.It.Out!
+ More