Hens Night Soy Candle Making Workshop (30 Persons)
---
Book Now (http://weteachme.com/l/8ezNT7Er)
---
Description
Hens Night Soy Candle Making Workshop (30 Persons)
Are candles costing you more than they should? Do you love the atmosphere they create in your home? We can show you how to make your own deliciously, fragranced soy candles for a fraction of the price in this 3 hour hands-on class. We'll take you through the process step by step so you can confidently create your own master pieces at home. Your home will not only smell great you will also have a money making opportunity when your friends and family discover you new talent. Get ready for orders!
We've taught close to 2000 students, why not become one of our happy students.
All our students will also recieve an extra kilo of soy wax and a wick pack to take home, so you continue your candle making adventure. The wick pack contains your wicks, wick stickers and safety stickers.
Read Brooke's review.
http://www.thegreataussiebite.com/make-soy-candles-melbourne/
For the candle enthusiast! This is a great way to learn about candle making- soy jar candles and blended pillar candles
This class includes 3 Hours of comprehensive tuition, plus
1 kg of soy wax
5 jars for soy candles
wick stickers and safety stickers
wicks
use of colours, fragrances and molds
All instructions by email and Candle Making Workbook
5 x tealight cups and wicks
This hands-on class will give you the confidence to make your soy candles, solve problems as well as allow your creativity to shine with the opportunity to create your own candle fragrance blend and colours.
Participants also have the option of receiving an extended instructional Candle Making Workbook by email.
+ More
What you will learn
Understand more about the art of candlemaking.
Create your own fragrance blends.
Make your own soy candles, tealights and melts
What you will get
5 Candles to take home, along with 5 tealights and several melts
Extended instructional Candle Making Workbook (via email).
All class notes emailed to you prior to the class
Extra 1 kilo of wax and a wick pack to take home
Parking Info
Parking is available on Richardson St.
---
What to bring
Small box to carry your candles home in.
Pen and paper for notes and apron to protect your clothes
Any favourite jars that you may want to use.
Any essential oils you may want to use in your candles.
What to wear
Casual clothes (Please keep in mind it might get messy) and flat, closed in shoes for comfort and safety
Appropriate for
This class is great for beginners but also for anyone who has tried candle making and wants to learn a little more detail from an experienced candle maker. Children over the age of 10 are welcome but they must be accompanied by an adult.
---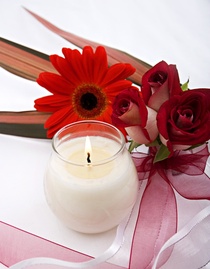 Soy-Candles Online is proud to produce a range of Natural Vegetable Soy Candles
PLEASE call Frosa for any enquiries re: classes 0409821444 Gasworks is our host, the staff cannot answer any specific questions re: workshops. Thankyou
We love soy candles and we love to teach the art of candle making, but this is not like other classes. We teach in a way that is simple to follow, without complicating the process with temperature concerns and without fuss.
That's not to say we don't worry about it, but there are simple methods that we can teach you that allows you to have your wax at the right temperature for melting, mixing and pouring. Everyone should have the opportunity to make these lovely candles. Why not join us?
Our classes are hands-on, so you get the experience in handling the wax. Yes, you will make mistakes at the start, but it's all about the learning. You will quickly become proficient using our method and will be making beautiful candles very quickly.
We will supply you with templates for wick sizing, fragrance blending charts, colour blending charts, lists of recommended suppliers and even a copy of our candle making workbook. And if you have queries after the class, we are more than happy to help.
See you soon.
Frosa katsis
+ More
---
Terms & Conditions
We always have people on our waiting lists, so please advise us in you cannot attend to avoid forfeiting the class.
A 48 Hour cancellation applies. If you cannot make it on your booking date, we are happy to offer you another date.
+ More
---