Like weely giveaways? Like exclusive classes? Like special offers?
Then your'll love our Newsletter!
Ambitious Women Workshop: From Overwhelm to Clarity, Confidence & Success
---
---
Description
This Workshop
The Ambitious Business Women Workshop is especially designed to help you right now.Are you feeling overwhelmed with all the choices for marketing and growing your business, feeling like you've hit a roadblock and not knowing what step to take next?Imagine if you could step into clarity and confidence and finally taste the success you envision for yourself… Because you now know the steps, to attracting your key customers and building a business you love.
The Experience
Why we are hosting this workshop
We want to make your journey in business easier by giving you simple to implement solutions, in a supported environment. We experienced first hand how challenging running your own business can be. There are so many offerings, webinars, e-books yet somehow the things that need to get done don't and overwhelm leads to in-action.
We are bringing you together for this clarity and guiding session as there is truly nothing like being in a room of like-minded people, the energy is contagious.
The Process
Here's what happens on the day
We come prepared with our proven processes and strategies, and share our biggest most impactful insights with you.
You spend the afternoon listening, doing and getting questions answered. You walk away with not only what you need to do in your business to move forward but you will understand the reasons why our strategies work.
More importantly you will become part of a new network of women who will support each other on your journeys.
The Learnings
You don't just learn, we do it with you
We love rolling up our sleeves to share with you, key information to get you started and growing. We provide the missing links.
You walk away with 1 key action step from each speaker, that will change how to look at your business and approach your customers. And you can immediately implement these into your business to create the change you need to propel you forward.
+ More
What you will learn
Learn to create and enhance your Personal Brand and attract the right customers
How to get your perfect customer through an online marketing campagin.
How to create a mindset for success
What you will get
You will learn how to develop a mindset for success. create your unique personal brand & style, get website savy and prepare the perfect marketing plan for your business.
---
What to bring
Just yourself. All materials are provided.
What to wear
Whatever you feel like x
---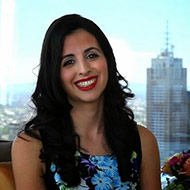 Travelling to my corporate job one morning, I had a life-changing realisation: I am too well dressed for my office, and I'm too passionate about fashion to ignore my attraction towards it. Soon after, I was working extremely hard to focus my energy and career towards styling, eventually graduating from the Australian Style Institute. Later, I earned top marks while completing a Diploma from the Australian College of Professional Styling.
The one understanding that grounds my styling is that almost everyone's first impression of you will come from how you look. I never dictate to a client what they should wear. Rather, I like to grab a coffee with them and try understand their background, who they are, and most importantly who they would like to be. Your style is an expression of your personality. Allow me to find your look, and change how others look at you.
+ More