Like weely giveaways? Like exclusive classes? Like special offers?
Then your'll love our Newsletter!
"License to Date" Workshop
---
---
Description
"License to Date" Workshop
Tired of attracting the wrong guy?
Sick of feeling undesirable?
Frustrated about the dating rut you are in?
Can't find the right man and sick of dating idiots?
If you said yes to the above and you are experiencing relationship headaches then you are not alone. There are countless numbers of women who share your dating and relationship frustrations and we are here to help you sort it out.
In this ½ Day "License to Date" workshop you will learn the License to Date formula to get what you want out of life and love.
"Turn your life around so that you are happy, healthy and totally in love with you and watch the magic happen"
The secret behind the success of this workshop is the ripple effects of what you will learn.
This is not a "how to find Mr. Right" or "How to be a pick up Queen workshop" This is about empowering you to get rid of whatever it is that is emotionally and mentally and holding you back from attracting the relationship that is right for you.
This ½ Day experience is less about what you are "doing" and more about who you are "being"!
"How we are, determines what we get back in life".
As well as learning to change and develop a core understanding of your values and your worth you will also be shown the practical skills of:
Personal Styling for your body and potential Make-up for all occasions Sophisticated communication
Both Stacy and Joni are firm believers in Physiology = Psychology. When a woman feels and looks good she can take over the world one smile at a time!
So to make sure you feel good and look good and are ready to promote your new you to the world
+ More
What you will learn
Coaching and clearing with Joni B http://www.jonib.com.au
Personal Branding and Styling 101 with Stacey Taras http://www.mypersonalfashionstylist.com.au
Make-up lesson on application and style with lead make up artists for TV and fashion.
What you will get
Bonus: Become a member of the Global movement, the HerHappiness Project and a leader for woman's happiness in your area.
---
What to wear
Whatever you feel like x
---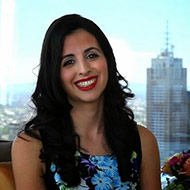 Travelling to my corporate job one morning, I had a life-changing realisation: I am too well dressed for my office, and I'm too passionate about fashion to ignore my attraction towards it. Soon after, I was working extremely hard to focus my energy and career towards styling, eventually graduating from the Australian Style Institute. Later, I earned top marks while completing a Diploma from the Australian College of Professional Styling.
The one understanding that grounds my styling is that almost everyone's first impression of you will come from how you look. I never dictate to a client what they should wear. Rather, I like to grab a coffee with them and try understand their background, who they are, and most importantly who they would like to be. Your style is an expression of your personality. Allow me to find your look, and change how others look at you.
+ More