Description
"We plan for our financial security in retirement, but what about our happiness?Retirement is a chance to refocus on ourselves andwhat we would like to spend our time doing."
The Transition to Retirement workshops, over two Saturday afternoons, provide you with an opportunity to reflect on, and start planning for, your retirement. In a small supportive and informative group setting in the Cottage Maitland Room, Bri Hayllar, a career psychologist and regular tutor with us, will guide you in:
Thinking about what matters to you as a person – what are your values?
Creating an image of what your preferred retirement looks like
Learning (briefly) about what science is teaching us about the essential elements for a happy and meaningful life
Using the science, as well as our values and vision, to create a road map of meaningful engagement to develop a 'nest egg' – not of money, but of the 'stuff of life'
Goal setting approaches to ensure you have some strategies to move along your desired path
Sharing with each other ideas, opportunities and resources
Please note these workshops do not include financial advice.
Surrey Hills NC other programs that might be of interest include: mindfulness programs, strength training, social groups and many leisure and learning programs.
+ More
Class Schedule
Two Saturdays, 30 July & 8 August, 1-4pm
What you will learn
Identify your values and create an image of your preferred retirement.
Explore goal setting approaches to ensure you have some strategies to move along your desired path.
Share with each other ideas, opportunities and resources.
What you will get
Printed resources to take home and continue planning for their preferred retirement.
A small supportive group to identify your retirement road map.
---
Appropriate for
Those considering retirement in the next few years, or already partly retired.
---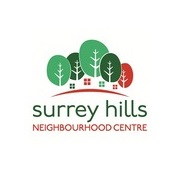 Activities for everyone: health and wellbeing, leisure and learning, social activities and volunteer opportunities and children's programs.
The Surrey Hills Neighbourhood Centre Inc (the Centre) was founded in 1978 at the initiative of local residents and was registered as an Incorporated Association in 1996. The Centre is located at 157 Union Road and an adjoining property at 1 Bedford Avenue. All our facilities are leased from the City of Boroondara.
Surrey Hills Neighbourhood Centre was founded in 1978 as a friendly, inclusive and welcoming meeting place where people could come together to share experiences and skills.The Centre offers a wide range of programs and activities run by friendly and knowledgeable teachers, at affordable prices.
The Centre is a overseen by a Committee of Management, and receives funding support from the City of Boroondara, the Department of Planning and Community Development with the remainder of the Centre's income generated by fees from programs and venue hire.
We have many active volunteers supporting the activities of the Centre and social activities to help you connect with your local community. Call 9890 2467 or email: enquiries@surreyhillsnc.org.au to find out more.
The Surrey Hills Heritage Collection at the Centre, is open for viewing on Mondays.
+ More