Introduction to Fashion Illustration
---
---
Description
Introduction to Fashion Illustration is aimed at complete beginners or those with some drawing experience. In a short amount of time it will take someone from the very foundations of fashion illustration through to an understanding of the various media most useful in this discipline. Excellent for recapping previous drawing skills also. Everyone can learn to draw; they just need the right approach and techniques. We begin with the fashion figure - what does it look like? How do I get it down on the page quickly and easily? We then progress through faces, the rest of the body, then onto media and rendering technique, and creating your own croquis figures.
This course is excellent for reviving previous drawing skills and taking them further, or for applying skills from a related discipline such as fine art or graphic design, to the art of Fashion Illustration. Tips and short cuts included!
*Great for building a portfolio for course entry or to gain the perfect job role.
About The Patsyfox Drawing Salon
Launched during the L'Oreal Melbourne Fashion Festival in 2010, The Patsyfox Drawing Salon offers boutique classes in Fashion Illustration for inspired beginners through to more experienced illustrators.
Deliberately small classes offer personalised tuition and demonstrations by Angie Réhe, freelance Fashion Illustrator for clients in Australia, U.S.A, Europe and Asia. Angie is also creator of the Patsyfox illustrated blog (www.patsyfox.com), and sessional lecturer in Fashion Illustration at RMIT University. Learn tips and secrets discovered through more than 20 years working in the fashion industry as a designer and illustrator. Classes held in the creative environment of the Frankie and Swiss studio in Sth Yarra.
Learn, be inspired, have fun.
+ More
Class Schedule
This class takes place on Wednesday evenings over 8 weeks, 6.30pm - 9.30pm
What you will learn
Media techniques for textile rendering and visual impact.
Fashion figure proportions
A fantastic method for getting the pose down onto paper.
What you will get
Professional grade materials supplied.
Methods and skills for you to continue your art and fashion illustration journey long after the course finishes.
A comprehensive booklet of notes to keep.
One-on-one assistance and attention.
---
What to bring
Your interest in drawing!
Students simply need coloured pencils,paint brushes, and a paint palette.
---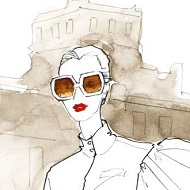 I'm a Melbourne-based designer and illustrator and have been working in the fashion industry since graduating from university in the late 80's.
After years of travelling the world and designing for some of Australia's favourite fashion brands, I saw the light and now make illustration – my first love – my number one.
Besides keeping up with Patsyfox.com, I mix freelance work with teaching fashion illustration and design at RMIT and in my own boutique classes at The Patsyfox Drawing Salon. I have a line of Bridal Sketches, illustrating brides in their beautiful dresses by commission, and am currently illustrating for Elle magazine.
I am a gun for hire, whose work can be found in magazines, print advertisements, fashion websites, brochures, invitations, design storyboard presentations, books, trend forecasting, greeting cards, and stationery.
Mantra?
I design-draw-write-photograph, therefore I am.
+ More