Like weely giveaways? Like exclusive classes? Like special offers?
Then your'll love our Newsletter!
Fashion Illustration Bootcamp - Part 2
---
---
Description
Fashion Illustration Bootcamp Part 2
Fashion Illustration Bootcamp (part 1) has been a very successful and enjoyable workshop, but left people asking me "What's next?". Bootcamp Part 2 was created specifically for this – when you've learned the fundamentals of fashion figures and dynamic marker pen technique, what is the next most important and useful thing to learn?
With a focus on textile rendering, this workshop explores mixed media including watercolours and ink, in addition to marker pens and coloured pencils, using these to render specific fabrics and textiles so your images become true fashion representations. You will learn techniques that you can apply to any fabrics and surfaces.
Additionally we will address one of the most-asked questions – How can I draw simple faces on my fashion figures? We will look at faces and stylization and apply them to our figures.
About The Patsyfox Drawing Salon
Launched during the L'Oreal Melbourne Fashion Festival in 2010, The Patsyfox Drawing Salon offers boutique classes in Fashion Illustration for inspired beginners through to more experienced illustrators.
Deliberately small classes offer personalised tuition and demonstrations by Angie Réhe, freelance Fashion Illustrator for clients in Australia, U.S.A, Europe and Asia. Angie is also creator of the Patsyfox illustrated blog (www.patsyfox.com), and sessional lecturer in Fashion Illustration at RMIT University. Learn tips and secrets discovered through more than 20 years working in the fashion industry as a designer and illustrator. Classes held in the creative environment of the Frankie and Swiss studio in Sth Yarra.
Learn, be inspired, have fun.
Booking conditions:
Your enrolment is confirmed by payment (places cannot be held).
If for some reason you need to cancel your enrolment, if more than ten day's notice is given you will be issued with a credit note valid for 12 months to use on other classes, which may also be transferred to someone else. If ten days or less is given, then your place may be transferred to someone else but not credited.
The Drawing Salon reserves the right to cancel any scheduled class, which may be for the reasons that a) the class does not reach the minimum number of students to proceed, or b) the class teacher falls ill. In this case a full refund of fees paid will be refunded.
+ More
What you will learn
Re-cap fashion figure principles and the best method for getting it down on paper fast
How to use a variety of art media to render specific fabrics and textiles, with depth and style
How to draw simple fashion faces on your fashion sketches
What you will get
Key techniques for rendering which can be applied to any fashion images.
Methods and skills for you to continue your art and fashion illustration journey long after the course finishes.
Personal tuition, critique and feedback.
Professional grade materials supplied.
Snacks and tunes!
---
What to bring
HB & 2B greylead pencil, eraser, Coloured pencils, brushes for watercolours and ink, palette, water jar. COPIC marker pens – "0" colourless blender, flesh colour (eg. E31), C2, C4, C6 (cool greys)
---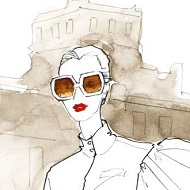 I'm a Melbourne-based designer and illustrator and have been working in the fashion industry since graduating from university in the late 80's.
After years of travelling the world and designing for some of Australia's favourite fashion brands, I saw the light and now make illustration – my first love – my number one.
Besides keeping up with Patsyfox.com, I mix freelance work with teaching fashion illustration and design at RMIT and in my own boutique classes at The Patsyfox Drawing Salon. I have a line of Bridal Sketches, illustrating brides in their beautiful dresses by commission, and am currently illustrating for Elle magazine.
I am a gun for hire, whose work can be found in magazines, print advertisements, fashion websites, brochures, invitations, design storyboard presentations, books, trend forecasting, greeting cards, and stationery.
Mantra?
I design-draw-write-photograph, therefore I am.
+ More