Mindfulness: coming to your senses
---
---
Description
Using your five senses - taste, touch, sight, smell and hearing - as a focus for mindfulness practice.
Experienced tutors with Surrey Hills NC, and local psychologists, Helen and Cathy, will guide you in reconnecting with your mindfulness practice.
Each week will focus on a different sense and explore new mindfulness approaches to help you find time to regularly practice mindfulness in our daily lives.
Surrey Hills NC also runs other mindfulness programs and will next offer Mindfulness Based Stress Reduction in term 2 along with a Saturday Mindful Day Break workshop.
+ More
Class Schedule
Five Thursdays, 6.30-7.30pm starting 11 February 2016.
What you will learn
Reconnect with your mindfulness practice.
Learn some new techniques and practices to add to your mindfulness repertoire.
Enjoy the company of others in practicing mindfulness.
What you will get
Learn some new techniques and practices to add to your mindfulness repertoire.
---
Appropriate for
Those who have previously done mindfulness classes or workshops.
---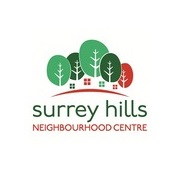 Activities for everyone: health and wellbeing, leisure and learning, social activities and volunteer opportunities and children's programs.
The Surrey Hills Neighbourhood Centre Inc (the Centre) was founded in 1978 at the initiative of local residents and was registered as an Incorporated Association in 1996. The Centre is located at 157 Union Road and an adjoining property at 1 Bedford Avenue. All our facilities are leased from the City of Boroondara.
Surrey Hills Neighbourhood Centre was founded in 1978 as a friendly, inclusive and welcoming meeting place where people could come together to share experiences and skills.The Centre offers a wide range of programs and activities run by friendly and knowledgeable teachers, at affordable prices.
The Centre is a overseen by a Committee of Management, and receives funding support from the City of Boroondara, the Department of Planning and Community Development with the remainder of the Centre's income generated by fees from programs and venue hire.
We have many active volunteers supporting the activities of the Centre and social activities to help you connect with your local community. Call 9890 2467 or email: enquiries@surreyhillsnc.org.au to find out more.
The Surrey Hills Heritage Collection at the Centre, is open for viewing on Mondays.
+ More