Like weely giveaways? Like exclusive classes? Like special offers?
Then your'll love our Newsletter!
Introduction to Mindfulness
---
---
Description
Mindfulness – it seems to be the buzz word. What is it all about? What benefits does mindfulness offer? How is it possible to begin to develop mindfulness practices? Want to find out more?
Mindfulness is a way of paying attention to what is happening in our lives. Seeing more clearly enables us to experience life more fully and to develop an ability to choose how we respond to joys and difficulties as they arise.
Mindfulness helps us to:
Step out of autopilot and notice what is happening in our life
Respond more effectively to stresses and difficulties of everyday life
Experience life as it actually is, rather than be drawn into concerns and fears based in the past and the future.
This one hour session is an opportunity to taste mindfulness practice and ask questions about what is involved in learning to be more mindful.
Presented by Helen Ansell, psychologist and trained mindfulness teacher.
+ More
What you will learn
The benefits of minfulness practices
How to begin to develop mindfulness practices
What you will get
An opportunity to taste mindfulness practice
Time to retreat, reflect and re-energise.
---
Appropriate for
Those who are interested in finding out about Mindfulness
---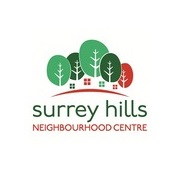 Activities for everyone: health and wellbeing, leisure and learning, social activities and volunteer opportunities and children's programs.
The Surrey Hills Neighbourhood Centre Inc (the Centre) was founded in 1978 at the initiative of local residents and was registered as an Incorporated Association in 1996. The Centre is located at 157 Union Road and an adjoining property at 1 Bedford Avenue. All our facilities are leased from the City of Boroondara.
Surrey Hills Neighbourhood Centre was founded in 1978 as a friendly, inclusive and welcoming meeting place where people could come together to share experiences and skills.The Centre offers a wide range of programs and activities run by friendly and knowledgeable teachers, at affordable prices.
The Centre is a overseen by a Committee of Management, and receives funding support from the City of Boroondara, the Department of Planning and Community Development with the remainder of the Centre's income generated by fees from programs and venue hire.
We have many active volunteers supporting the activities of the Centre and social activities to help you connect with your local community. Call 9890 2467 or email: enquiries@surreyhillsnc.org.au to find out more.
The Surrey Hills Heritage Collection at the Centre, is open for viewing on Mondays.
+ More