Zoom and The Porous Body with New Zealand Guest Teacher Juliet Shelley
---
---
Description
To have eyes that see and move and change with a body that perceives and moves and changes in real time means to have eyes that see without a story, with no history and projecting no future. To have ears that hear with no story or history and to have a body that moves and dances without a need to hold on to, project or preserve anything for posterity requires a specific approach to movement and dance technique, composition, improvisation and performance. Composing and dancing live with no drama, no fairy tale, no psychology, whilst constantly choosing within a present that is fluid and changing every moment - what are the skills and techniques that a dancer needs for this? This is what we will explore in this workshop.
Juliet Shelley studied dance at the Laban Centre, University of London Goldsmiths College, London and at the Centre for New Dance Development (SNDO) in Amsterdam. She began working professionally in dance in 1987 in England as a member of Jointwork Dance Group, working with theatre and dance artists such as Jos Houben of Theatre de Complicite, Rosemary Lee, Katie Duck, Julyen Hamilton and Kirstie Simson. She began creating and performing her own dance work in the '80's and has performed in theatres and studios in England, Italy, Australia, the Netherlands and New Zealand. Over the past twenty two years she has been an active exponent of both performance improvisation and contact improvisation, producing for artists Nancy Stark Smith, Martin Keogh, Andrew Marcus and Magpie Music Dance Company and performing with them. She continues to perform and she teaches her classes and workshops in Australia, New Zealand, the USA, Singapore, Italy, the UK and the Netherlands. http://motionbeing.com/ - Dance +Pilates + Alexander Technique
+ More
Class Schedule
Duration: 2 Hours
What you will learn
You will learn how sense of touch enhances your seeing listening drawing skills
Using pen and ink we will explore how this changes the way we see and becomes visible in our drawings
Daily awareness through moment exercises will help us to loosen up, relax and awaken our senses
What you will get
Expert tuition from an experienced teacher!
---
What to bring
Your enthusiasm to learn!
What to wear
Casual (Warning: It might get messy)
---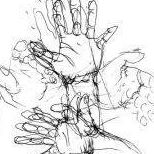 Rena Czaplinska is fascinated by the question of seeing and perceptions and inspired by her lifelong research in somatic movement with Anna Halprin and the writing of Juhanii Pallasmaa.
She is a practicing architect and a passionate art educator who has taught design and drawing for over 20 years at the Architecture Faculty of Sydney University and developed a popular Time for Drawing program which helps the participants to shift from their habitual ways of moving, seeing and thinking and releases their natural impulse to draw.
Rena offers Time for Drawing workshops in Australia and internationally.
+ More